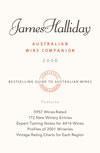 THE
book to have if you want or need to know anything about Aussie wine! Bigger and better than ever. Chuck out your old editions this one has 400 NEW wineries listed.
(Actually keep the old ones they still have valuable info!)
Pre orders now being taken for publication date of 27/07/05
In previous years it has not been available overseas for some months so getyour copy pronto via the link below.
James Halliday's Australian Wine Companion 2006