OTBN : An American idea that makes sense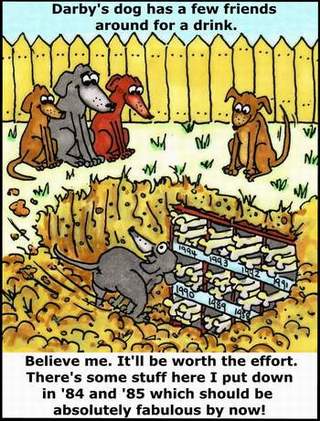 I don't really know, but I suspect that many (if not most) of the readers of this blog are Baby Boomers. So we are entering the contemplative phase of our lives. Some of us have made wills and we are all
busy planning for our retirement
.
Many of us have accumulated a few bottles of wine that we regard as special, either for the wine itself, or the memories attached to it. (I have two bottles of a James Joyce Bloomsday Centenary wine, and 1974 Vintage red called "A Certain Grandeur" for example).
But what is going to happen to this glorious plonk when we shuffle off? Is it going to be wasted on the Bacardi Breezer generation? Not a pleasant thought.
The only sensible thing to do with wine is to drink it.
The Americans have come up with the idea of Open That Bottle Night, held on the last Saturday of February, this year it's the 24th.
The idea is to set up an occasion and open a special bottle, or two, that would otherwise be left in the shelf for too long. Some BYO restaurants in the US even waive corkage for OTBN. I'd like to see that done here.
At one level it's a marketing ploy, just like St Valentines Day, but it can help us to take stock of what is in the cellar and when we think we are actually going to drink the stuff.
So there you have it, what are YOU planning? Remember you can't take it with you.
Use the comments link to share your thoughts.
By the way the cartoon above is from my good friend
Lord Sedgewick of Strathmore
Labels: otbn